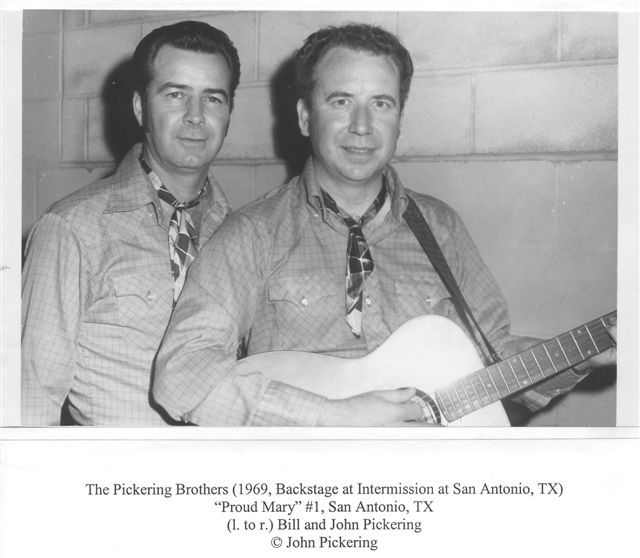 Buddy Holly was tragically killed in a plane crash on February 3, 1959. This has always been a delicate subject for the Picks, who were shocked and greatly saddened by the news. It cost Buddy his life and budding career; it cost a young bride her husband; it cost his loving family a son and brother; and it cost the music world great Holly contributions that surely would have come. The loss to the Picks pales in comparison to these things, and for years the Picks didn't know how to discuss it without sounding insensitive to all the above. Unfortunately for the Picks as a singing group, no one else mentioned it or wrote about it for almost 20 years.
In the meantime, unaware of their "rock and roll" obscurity, Bill, John and Bob pursued their lives without celebrity. Bob Lapham became a successful newspaper editor, especially at his home town of Abilene, Texas. He never became a professional singer.
Bill Pickering pursued a career as a shoe salesman and church soloist in Lubbock and Houston, Texas. He recorded solo under the sponsorship of the late L.O. Holley (Buddy's father) in the early 1960's.
After being geographically separated for twelve years, Bill and John Pickering regrouped in 1969 as country singers called "The Pickering Brothers" of Houston, Texas. After twelve years of near-anonymous international vocal success as "Voices of the Crickets", John and Bill Pickering, who had continued to perform separately, had the opportunity to record together, again. Their first effort was a hit on Pete Drake's Stop Records out of Nashville, Tennessee. There were successive turntable hits, beginning with "Proud Mary" (#1 in some major markets), then "Words", followed by their own version of "Oh Boy" and "Going Down to the River" (the latter written by John Pickering). They recorded a total of eight songs in Nashville, Tennessee, at Music City Recorders studio, and as fate would have it – the help they'd been seeking was supplied by some of Elvis Presley's associates. The owner and engineer of Music City Recorders was Scotty Moore, Elvis' original guitarist and first manager. The Picks' session musicians included such stars as Pete Drake (steel-player and owner/producer of Stop Records); D.J. Fontana (Elvis' drummer); and Ben Keith (Elvis' steel player). Interestingly, but not surprisingly, The Jordanaires also recorded for Stop Records.
Due to the lack of "Crickets" credits, the Buddy Holly connection had virtually no bearing on The Picks' nor The Pickering Brothers' careers. Only Bob Montgomery, by then a very successful producer in Nashville, had ever heard of them. That was because he was a member of Holly's "Buddy, Bob, and Larry" group prior to The Crickets' formation.
That first trip to Nashville in May, 1969 was the first time The Picks (Pickering brothers: John and Bill) became fully aware of their Holly-related obscurity. They auditioned and won a contract on their own with Stop Records, then later with Daffan Records and Stoneway Records of Houston. After some success, The Pickering Brothers career as country recording artists came to an abrupt stop on October 8, 1974.
At age 47, Bill Pickering, who was called "Buddy's hero" by Mr. L.O. Holley (Buddy's Dad), suffered a near-fatal ruptured brain aneurysm. [Mr. Holley said Buddy admired Bill's good looks and flawless high tenor voice]. Bill's sudden and almost fatal condition effectively ended recordings by The Pickering Brothers as a duet (but not as The Picks).
For eighteen months, Bill Pickering was blind and partially paralyzed. His vision miraculously was returned to him in 1976, but for the next eight years, he worked very hard to regain use of the tenor voice that, according to Buddy himself, as well as according to Norman Petty, had helped launch Buddy Holly's successful recording career.
Unfortunately, the 1978 "Buddy Holly Story" movie, although entertaining and well-acted, only served to perpetuate myths by showing the instrumental Crickets doing their own singing, which the two actual band members depicted never did: they lip-synched or simply moved their lips in public appearances.